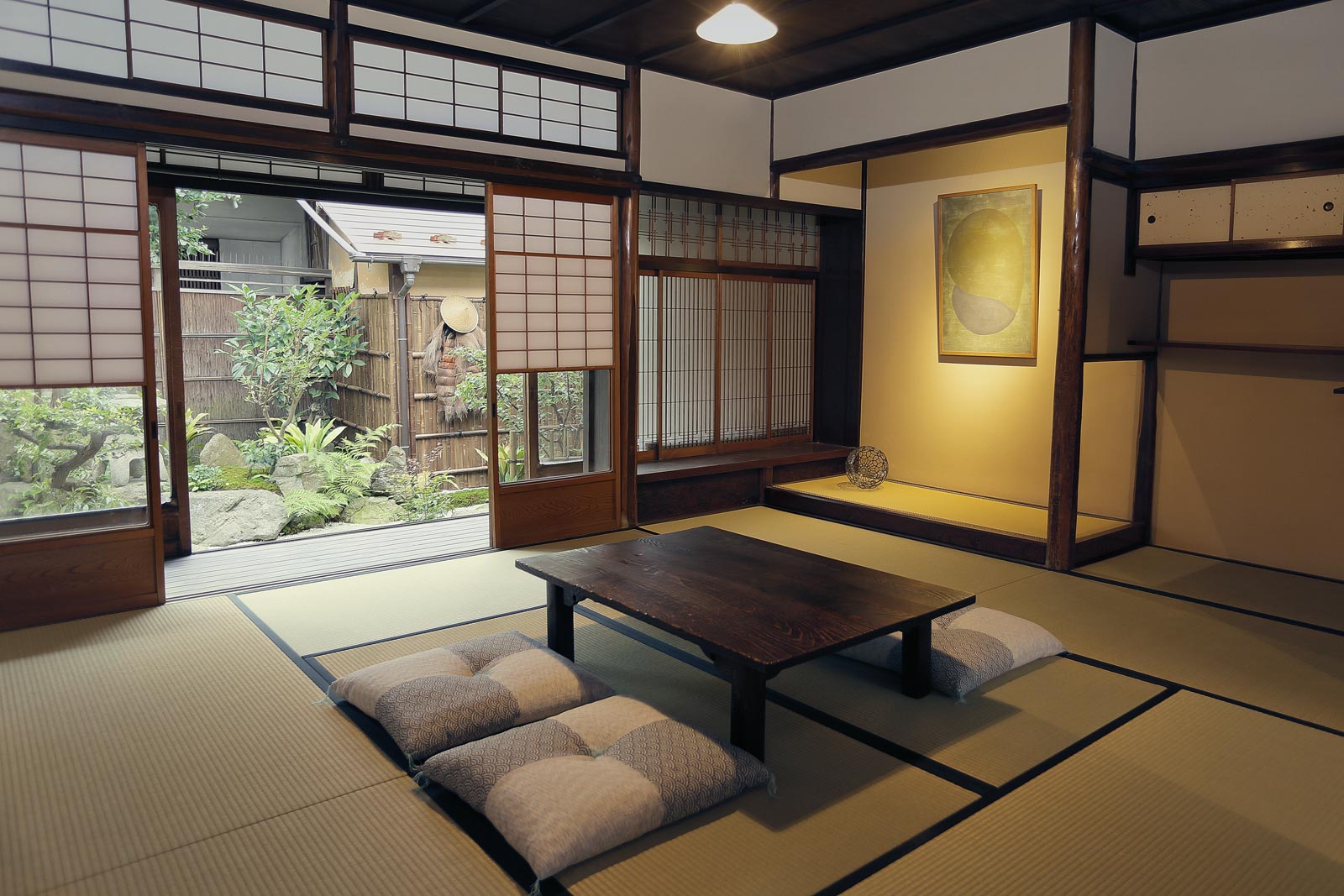 Our Facilities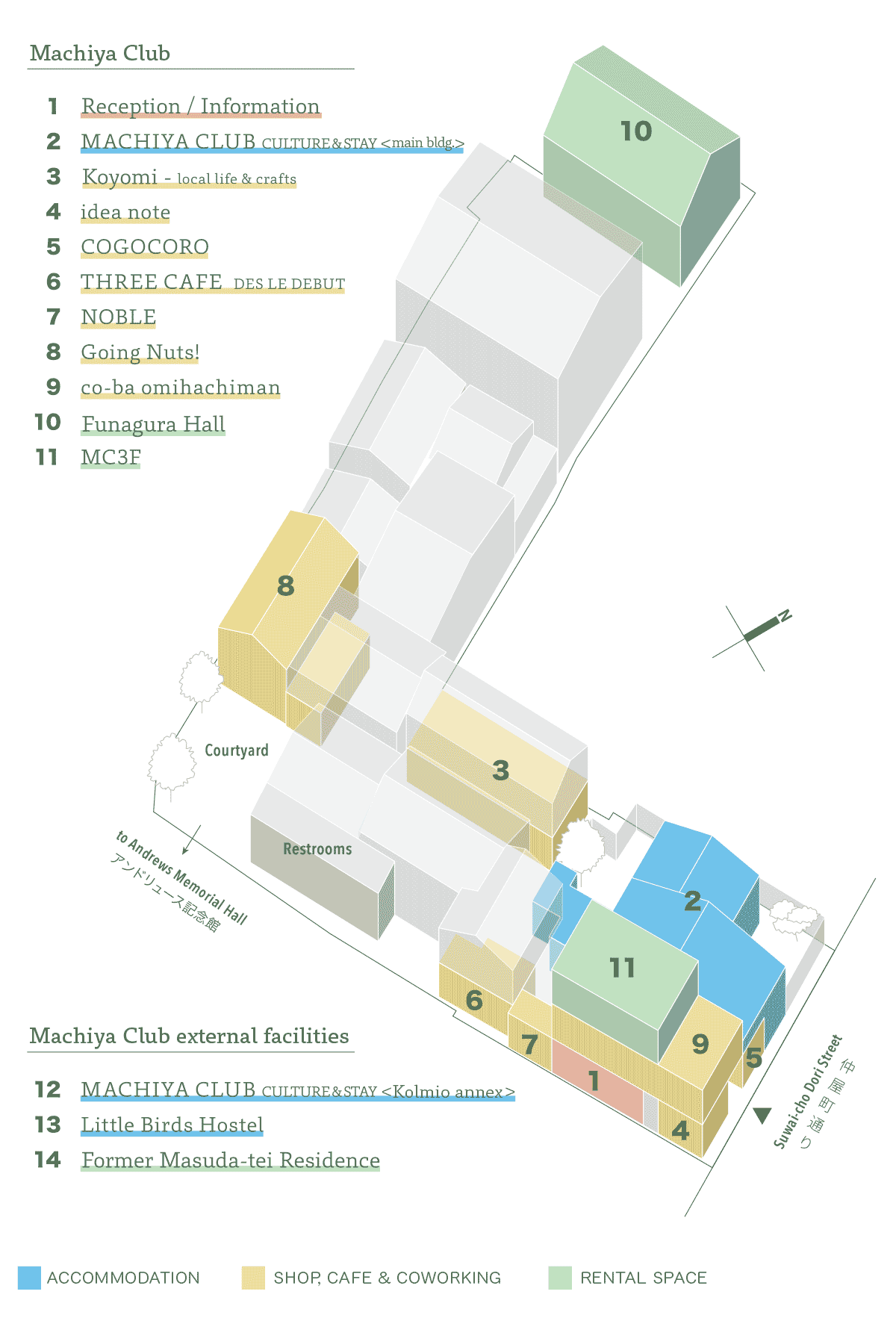 Accommodations
Machiya Club – Culture & Stay

Relax and Enjoy the Local Life & Tradition
A machiya is a traditional Japanese townhouse. MACHIYA CLUB – CLTURE & STAY provides accommodation within a newly restored machiya from the late Edo period, which was originally part of a sake brewery. Immerse yourself in the deep historical atmosphere during your stay. Works of local contemporary artists are also displayed around our facilities, in support of the local arts culture.
No. of Rooms:3
In-Room Facilities:futon or bed / table / humidifier
Shared Facilities:two sake-barrel bathtubs / a shower room / two toilet rooms / TV / refrigerator / microwave / hair dryers
Amenities & Complementary Services:Wifi / hand towels / bath towels / yukata bathrobes / toothbrush & toothpaste / razor / cotton pads & swabs / coffee, drip-brewed with spring water / rental bicycles
omi-machiyainn.com
Annex Kolmio

Suite Rooms in a Former Soy Sauce Brewery
This annex of Machiya Club – Culture & Stay features two suite rooms and a café (kolmio café, interior), housed in a newly renovated building that was once a soy sauce brewery. The building includes a suite room converted from an entire historic kura warehouse, and another in a two-story classic machiya house. Breakfast with fresh local ingredients is available at the café (separate reservation required).
No. of Rooms:2
In-Room Facilities:futon or bed / bathroom / TV / refrigerator / microwave / hair dryer
Amenities & Complementary Services:Wifi / hand towels / bath towels / yukata bathrobes / toothbrush & toothpaste / razor / cotton pads & swabs / original bath amenities (soap, shampoo & conditioner) / cleanser, toner & lotion set / tea (green, black, flavored) / rental bicycles
Little Birds Hostel

Casual Hotel in a Renovated Retro Space
A casual inn with cozy rooms in a newly restored building from the 1970s. Rooms are all private, but shared communal space includes kitchenette, workspace, and living area, offering our guests the chance to enjoy friendly exchange with fellow travelers.
No. of Rooms:6
In-Room Facilities:bed / desk
Shared Facilities:mini library / kitchenette / washing machine / toilet & bathroom (men & women) / hair dryers / humidifier
Amenities & Complementary Services:Wifi / breakfast / hand towels / bath towels / yukata bathrobes / toothbrush & toothpaste / rental bicycles
littlebirdshostel.com
---
Flagship Shop
KOYOMI – Local Life and Crafts

KOYOMI – LOCAL LIFE AND CRAFTS is the flagship store of MACHIYA CLUB, housed in a renovated building that was once a dormitory for kurabito, or skilled labor, of the historical sake brewery. The shop displays local handcraft items made with natural materials like reed, bamboo, linen, leather, and sailcloth. We focus especially on pieces that embody a union of traditional artisanship and contemporary design, suited for modern living. The shop is also used to provide hands-on workshops where participants can experience a deeper understanding of how these products are made. And additionally, we offer brief tours to see more of Omihachiman's beautiful nature as well as the production studios of local craftspeople.
* Ask us more information about tours and workshops.
Hours:1 – 5 pm (weekdays) / 10:30 am – 5 pm (Sat, Sun & holidays)
Closed:Wed
Phone:0748-32-4654 (Machiya Club)
@koyomi_omihachiman
---
Shop & Cafe
idea note

Handcraft, Ornaments, & Vintage
A specialty handcraft shop of various antiques and vintage items from both Japan and abroad. The shop owner's own original handmade jewelry is also displayed. A small workshop for handcrafting your own jewelry is also available. And don't miss the various made-in-Shiga materials like Omi Linen, Biwa Cotton, and Biwako Pearls from Lake Biwa. The shop also produces an original environmentally-friendly cosmetic line, ideaearth.
Hours:11 am – 5 pm 
Closed:Tue & Thurs
Phone:090-3718-5770
@idea_note
COGOCORO

Sailcloth and Leather Shop
Leathercraft shop specializing in one-of-a-kind items such as quality handcrafted bags and purses. Hands-on workshops also available for making small leather items with techniques such as leather engraving.
Hours:11 am – 5 pm
Closed:Thurs
TEL:090-5157-6485
https://cogocoro.com/
THREE CAFE DES LE DUBUT

Café, Goods, & Flowers
A shop for miscellaneous goods, dried flowers and flower arrangement. Also, try delicious Vietnamese bánh mì sandwiches at our weekend café.
Hours:11 am – 5 pm
Closed: Mon, Wed & Fri (Café only open Sat & Sun)
Check our shop calendar @three3cafe
NOBLE

Nail Salon to Nurture Your Daily Life
Offering detailed care and nail art design to bring you joy! Just nail care is also welcome. The salon also sells various lines of nail care products.
Hours:10 am – 5 pm
Closed:Sun
http://noble.pecori.jp/
Going Nuts

Bulk Nuts Specialty Shop
This shop sells carefully selected nuts, dried fruits, nut butter and olive oil, in bulk, under the motto "start something good for mind, body and the planet." Promoting a sustainable lifestyle from Omihachiman.
Hours:11 am – 6 pm (Sun: 12 pm – 5 pm)
Closed:Wed
Phone:0748-43-1933
https://www.going-nuts.com/
@goingnuts777
---
COWORKING SPACE

Shared Work Space in Renovated Residence of Sake Brewery
CO-BA OMIHACHIMAN is a coworking space that offers a great working environment, equipped with power outlets, wifi, a meeting room, and copy-machine. There are cafés and restaurants nearby, so you can enjoy working here all day. Full membership allows members to use our address for business registration.

Pricing:
● Drop-in Use: ¥1,000 + tax / day, ¥500 + tax / day for students
● Full Membership: from ¥8,000 + tax / month
● Weekend Membership: ¥3,500 + tax / month
Facilities & Equipment:air conditioner / toilet rooms / wifi / power / kitchenette
Other:meeting room (be reservation only) / copy machine (pay per copy)
https://co-ba.net/omihachiman